Curly hair specialist, Robert Caro provides expert hair styling using the award-winning Ouidad formula for curly hair.
Robert Caro hair salon is located in Fort Lauderdale.
The true South Florida hair salon for curls.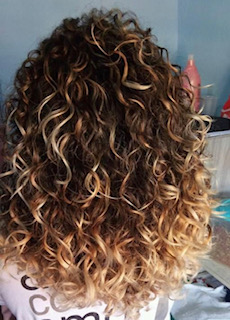 Skilled & Talented Hair Stylist
Hair Color, Precision Cuts, Extensions, Curly Hair Specialist
You will be very happy to find that we are big in communication. You will always get a chance to discuss what YOU want prior to any service. Both in English and Spanish
We stand by our word, so we offer 100% Money Back Guarantee! 
Are you a new client at Robert Caro?
Receive $20 off your first visit. All you need to do is submit your name and e-mail address to receive your coupon today. 
Get Our Robert Caro Mobile App!
You will be able to book online,  receive points towards special offers and much more! Found in Google Play and Apple Store — Just search "Robert Caro Hair" and download for free today!
Dealing with split ends?
These at-home hair remedies can help get you through the homestretch before you're able to enjoy that luxurious haircut you've been dreaming about. 
Ouidad Certified Hair Salon
See what our clients are saying
Robert Caro Hair is one of the best hair salons in Fort Lauderdale, Florida, providing a master hair colorist and haircut stylist. 
Robert is the best! I have super curly hair and am so glad I found him. From color to cut to keratin he's amazing!
Robert does exactly what I want with my curly hair and I always leave thrilled. Usually I say "do whatever you think is best". Have been going to him for many years after trying the other curly hair experts in town. I like his small, no-frills studio that I can get in and out of. He's always on time and friendly.
Robert is an expert in all three areas that matter most…. Color, cut and style.
Rachelle Wagner
2021-09-15
I have been going to Robert for over 17 years and would not go to anyone else. I have thick, curly hair that can be unruly on the best of days. I am afraid of how it would look if I didn't have Robert to put it into a shape I can work with.
The one with the green shirt is my before picture. All of my hair intact. The second picture where I have my gray hair you will see that I lost HALF my hair due to damage of getting my hair done here. I was not going to leave a bad review, but living this way is traumatizing, embarrassing, and horrible. My hair was beautiful and thick. Now it's stringy, thin, and literally HALF OF IT IS GONE. Horrible...nothing could give me hair back. Nothing.
Robert definitely knows curly hair. He was attentive to my concerns about my hair. I love my new style. It is simple, stylish and easy to manage. I look forward to my next appointment!
Leilani Hammock
2021-02-05
Robert is experienced and did a great job with my highlights and cut.
Where do I start? I needed a long overdue hair cut. I have curly hair and my hair had grown very long and has been spending majority it's time up in a bun. I missed when I used to have short hair and now a mom of one year old I need something that I could better manage and wanted to feel better about my hair again. I was looking for specifically a stylist that works with curly hair and found Robert. He was very easy and quick to communicate with. At our appointment he listened to my story and what I wanted to accomplish and boy he did not disappoint! The Ouidad cut was amazing. My hair feels and looks great! My husband who at first was nervous about me going short again after 6 years - loves it! How Robert did the cut didn't make my hair look puffy or "broccoli head" as my husband put it and says I look 10 years younger. Robert was very personable, professional and clearly cares about his clients looking and feeling their best. Thanks again Robert I look forward to our next appointment.
Great haircut. Found Robert over 2 years ago and won't give him up.
Lois Schoonover
2020-07-08
I found Robert when I searched the internet for a master colorist. I am so happy to be able to give a review on the great service I received from Robert. My aim was to transition to grey from my previously medium brown dyed hair. He did a great job and an amazing haircut. So glad I found him. Even though I have to travel miles to get to him I will be coming back.
We are certified in the Ouidad curly hair system!
● Haircuts for Women and Men
● Ouidad curly hair specialist
● Global Haircolor
● Corrective color
● Gray blending for men
● Highlights and Lowlights
● Balayage
● Ombre, sombre
● Keratin and Brazilian blowout treatments
● Hair Extensions (fusion, micro bead, tape­ins, skin wefts, microbead wefts)
● Wedding Up Dos and Special Occasion Hairstyling
Robert Caro is a 
master hair colorist/stylist
 with more than 32 years of experience, having worked in:
New York
Los Angeles
Houston
Miami/Fort Lauderdale
His studio was designed to be comfortable, modern and professional, catering to male and female clients of all ages and hair types. Therefore, from classic styles to the latest trends Robert's clients individually experience his expertise at hair color, precision cuts, or extensions. As a former Goldwell Hair Color educator, Robert has extensive training in all aspects of coloring techniques, which include corrective coloring, highlights/ lowlights, Balyage, Ombre, and gray blending. Robert is certified in the Ouidad curly hair system, and he uses these world-renown products and techniques to enhance the beauty of curly hair — from tight curls to loose curls and everything in between. Robert has been applying extensions for more than 10 years and is trained in every method including bonding, micro links, and skin wefts.