Does Your Curly Hair
Constantly Have Split Ends?
Here's What You Can Do.
Although curly hair comes in many shapes and textures, there is one vein that all types have in common—split ends. A multitude of reasons causes this hair type to be vulnerable to breakage. For instance, how it grows or dryness. We can all agree that curly hair requires a higher level of the correct steps for our—home maintenance. We wish we had our amazing hair stylist every day, but most of us do not have that luxury.
As curly hair specialists, we wanted to provide you with a few helpful at home solutions for split ends. To do so, we've tapped our curl expert and Ouidad educator, Kara Jacobs, to assist us. These at-home hair remedies can help get you through the days between that luxurious haircut.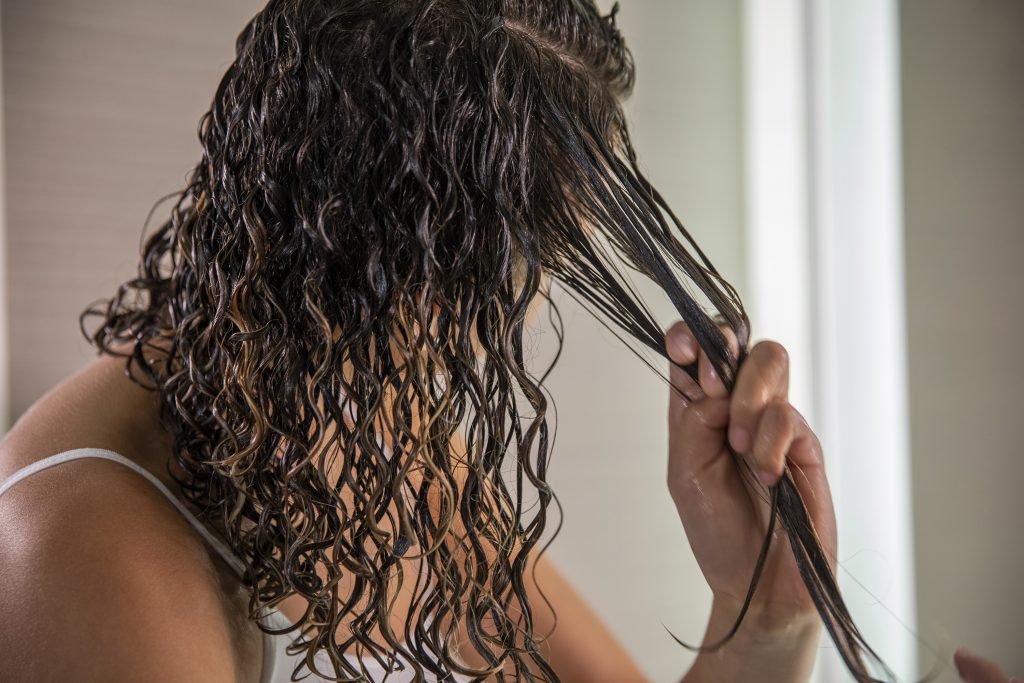 Tip #1: Use the right shampoo and conditioner
"If you have dry and damaged split ends, you'll want to make sure your shampoo and conditioner are extremely hydrating. I can't live without the Ultra-Nourishing Cleansing Oil Shampoo and Curl Quencher Moisturizing Conditioner. This combo is extremely gentle on my curls and adds an extra boost of moisture."
How to use: Cleanse and condition once-to-twice per week or as needed.
Tip #2: Always use a leave-in conditioner
"A leave-in conditioner is an essential in repairing split ends. It will act as a protective barrier to the elements your curls face on a daily basis. The Moisture Lock™ Leave-In Conditioner has moisturizing botanical extracts, like arnica and prickly pear, and antioxidants, like green tea and vitamin B5, to help protect each strand and promote healthier ends."
How to use: Use right after the shower, style and go!
Tip #3: Add an oil to your ends
"Typically, your curls will start to dry out on day two, three and beyond. Try using an oil, like the Shine Glaze Serum or Mongongo Oil, to help moisturize your ends in between washes."
How to use: Apply to your ends as needed throughout the week.
Tip #4: Do a weekly treatment
"My two favorites? The Ultra-Nourishing Intense Hydrating Mask and the Curl Immersion™ Triple Treat Deep Conditioner. The Ultra-Nourishing Intense Hydrating Mask is rich in natural oils to help deep condition and restore the essential moisture back into your strands. If your curls are on the tighter side, try the Curl Immersion™ Triple Treat Deep Conditioner, which has grapeseed and avocado oils that act as a sealant to lock moisture."
How to use:Pick your conditioner and leave on for twenty minutes. Rinse out. Style as per usual.
If you try one of Kara's at-home hair remedies, be sure to tag us in your own hair hacks on social tagging @ouidad and #OuidadLove. We're wishing our curl girls hydrated ends and moisturized strands, always!